How Kalki.IO Data Hub Middleware Accelerates Australia's Flexible Export Requirements
By ASE Kalkitech MarCom Webinar Recording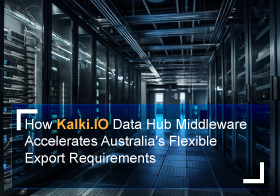 Are you interested in learning how Kalki.IO Data Hub middleware can help you meet dynamic export limits requirements? Join us for our upcoming webinar, "How Data Hub Middleware Accelerates Australia's Flexible Export Requirements"
In this webinar, we will discuss:
– The role of Data Hub middleware in facilitating flexible export solutions
– The benefits of cloud and edge computing for efficient data management
– The Government of South Australia's dynamic export limits requirements
– SA Power Networks' innovative approach to flexible export
– Real-world case studies showcasing successful implementations of data hub middleware for dynamic export limits
Data Hub middleware can help you to:
– Integrate disparate data sources, both IT and OT, as well as real-time and non-real-time data sources.
– Integrate IEEE 2030.5, DNP3, IEC 104, ICCP, SunSpec Modbus and other OT / SCADA / DER data with Enterprise systems through Enterprise Services Bus, Message Queues, and AWS / Azure integration through MQTT, IoT Core / Hub, Kinesis, Kafka, S3 and similar interfaces.
– Respond swiftly to evolving grid conditions and energy demands to ensure safety and reliability.
– Cloud and edge computing can provide scalability, flexibility, and performance.
– Data Hub middleware can be used to meet dynamic export limits requirements.
Don't miss out on this opportunity to learn from industry experts and gain actionable insights into leveraging data hub middleware for accelerating dynamic export limits requirements. Reserve your spot today!